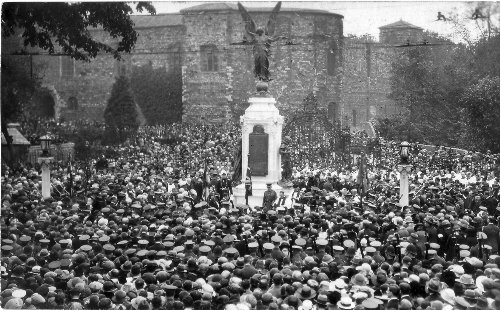 CONNECTING PAST AND PRESENT
There is comfort and strength in remembrance. Most of us do it when anniversaries of family and friends who have 'passed on' come around, or when we recall fondly those no longer here.  
The drum beat of time passes by but we can hear and see the echoes of past events in Colchester more than most.  We remain an army town, with some of the finest forces the UK has today.  Our castle reminds us of past events, from the temple of Claudius and Boudicca to the siege of Colchester.  
Your Lib Dem led Council honours our shared past, in particular the sacrifice of those who fought and died in World War 1 (and two and the conflicts that followed). 
A succession of special events will mark the centenary. Soldiers will be on parade alongside civic dignitaries, members of the Royal British Legion and the public for the service of Remembrance at the war memorial, at the precise moment an end to hostilities was declared 100 years ago.
The full day of tributes begins at 6am, with a bagpipe lament, Battle's O'er, played from the Town Hall balcony, as a thousand other bagpipes sound across the nation.  The focus later shifts to the War Memorial for the traditional Remembrance service.  The Band of The Parachute Regiment and Colchester Military Wives Choir will perform before and during the service. At 11.59 the Sanctus Bell will be rung in the Town Hall, and at 12 noon the Mayor will recreate the scene from 100 years ago when the proclamation declaring the end of the Great War was read from the Town Hall balcony. A civic reception in Moot Hall then follows and commemorations move to Castle Park, to hear The Last Post played at 6.55pm and look on as the World War 1 Beacon of Light is lit at 7pm.  A five-minute nationwide peal of bells then follows.
As Liberal Democrats, leading this Borough Council and military town, we are proud to mark that history,and to show our support for our armed forces, for their past, present and future service. 
---
Find out more about our work - sign up for emails today:
---